We warmly invite AAUP–Penn members to attend the Higher Ed Labor United Winter Summit on February 23–27. You can register here (and see details on HELU and on the Summit agenda below).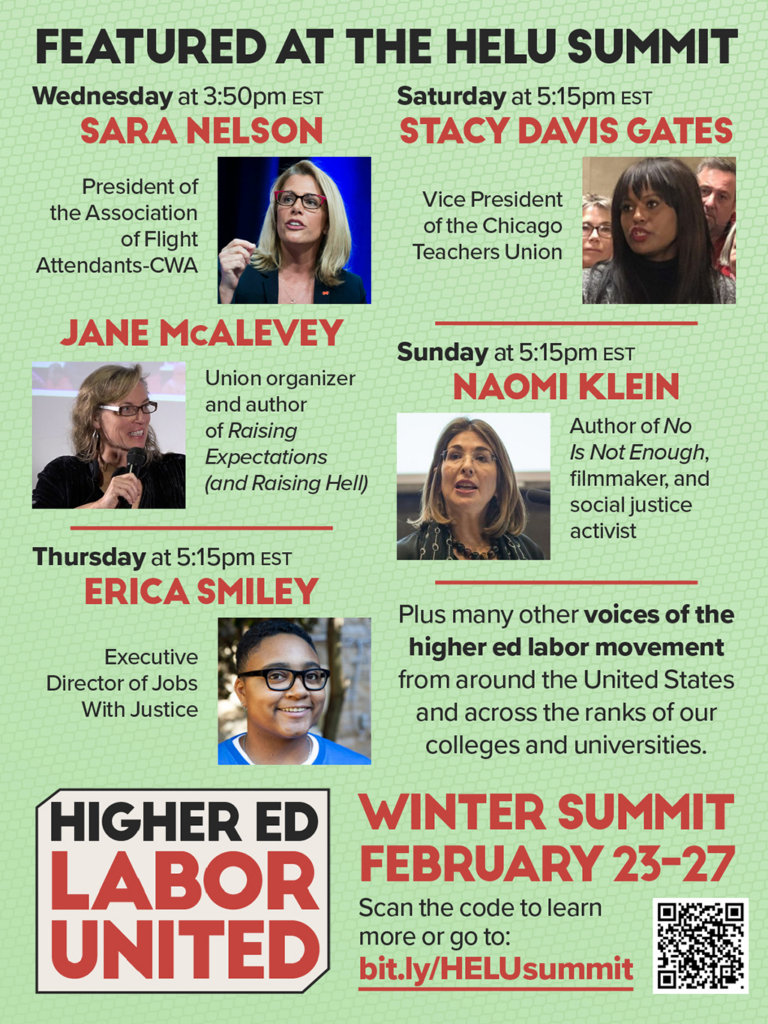 Higher Ed Labor United is a nationwide coalition of 116 (and counting!) academic unions, AAUP chapters, and allied organizations representing more than half a million members working together to transform higher education in the interests of students, faculty, grad workers, staff, and the communities we serve. AAUP–Penn joined HELU when it came together last summer by endorsing the inspiring Vision Platform.

The upcoming Winter Summit will feature a mix of online panel sessions, plenaries, and group discussions. You can see the agenda here, and the fantastic lineup of speakers includes Naomi Klein, Stacy Davis Gates, Sara Nelson, and Jane McAlevey. Goals include coordinating the surge of higher ed organizing, centering racial and community justice, building alliances, developing federal policy proposals to reverse the trends that have damaged higher education, and educating politicians and candidates on these issues and working to support those who will advance a program of democratizing higher education. It's sure to be a stimulating and productive gathering, and an opportunity to build solidarity across campuses and to think creatively and collectively about how to move forward.
Since our chapter is a contributing organization, all members in good standing (i.e. with annual national dues paid to AAUP this year) are invited to attend as many or as few sessions as your schedules allow. If you are an AAUP–Penn member, we encourage you to participate! You can register for free here.